Student Accommodation in the Heart of Liverpool
Unity Square is located in the trendy area of Islington in Liverpool City Centre, just seconds from Liverpool Hope University.
NOW ACCEPTING APPLICATIONS FOR 2024/25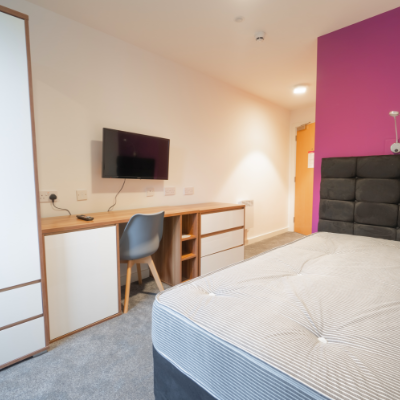 Ensuite Room
From £139 PW
Bronze, Silver, Gold and Platinum Packages
45 Weeks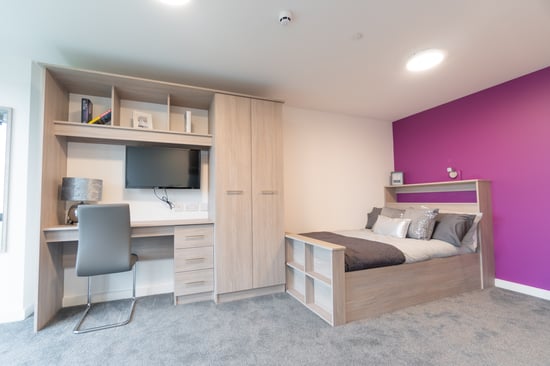 Private Studio
From £160 PW
Bronze, Silver, Gold and Platinum Packages
51 Weeks

"Been here for nearly a year now and love it. The staff are all nice and caring and go the extra mile to make your stay here is as good as possible. Highly recommend and will be staying here till I finish university."

"Highly organised new fashion rooms. Great location near a large park with great view. This campus is literally like a hotel. All the staff are super friendly and helpful too. Highly recommended. I would like to give them 5 Stars "

"Lovely, new and clean student accommodation! Perfect location near to uni & city centre, I've never had to use the bus. Everton Park just outside the door, Lidl just 5 min walk. Very friendly and helpful staff. I recommend this place 100%."
Bold Street is one of the most famous shopping streets in the country. Well known for its independent stores, cafes and restaurants, located in the heart of Liverpool City Centre. From world foods, to vintage records and designer boutiques, theres something for everyone on this cobbled street.
Bold Street is home to a multicultural hub of international flavours. Indulge in different cuisines food from the likes of Peruvian Chicha, Love Thy Neighbour, Italian Club Fish, East Avenue Bakehouse.
Home to the famous LEAF tea shop, enjoy two floors of relaxed ambient atmosphere and become a tea connoisseur for the afternoon with their wide selection of loose leaf teas. If coffee isn't your thing then head down to the aptly named Bold Street Coffee.
For quirky designer furniture and unique gifts, look no further than Utility, and head for Resurrection for reworked and branded clothes, or Pop Boutique for the best vintage you can find.
Once you've made it right to the top of the street why not visit the famous Bombed Out Church. A much-loved iconic landmark at the very heart of the city, you can come here and bask in its green gardens, marvel at what remains, and embark upon one of the many amazing events that are held here throughout the year.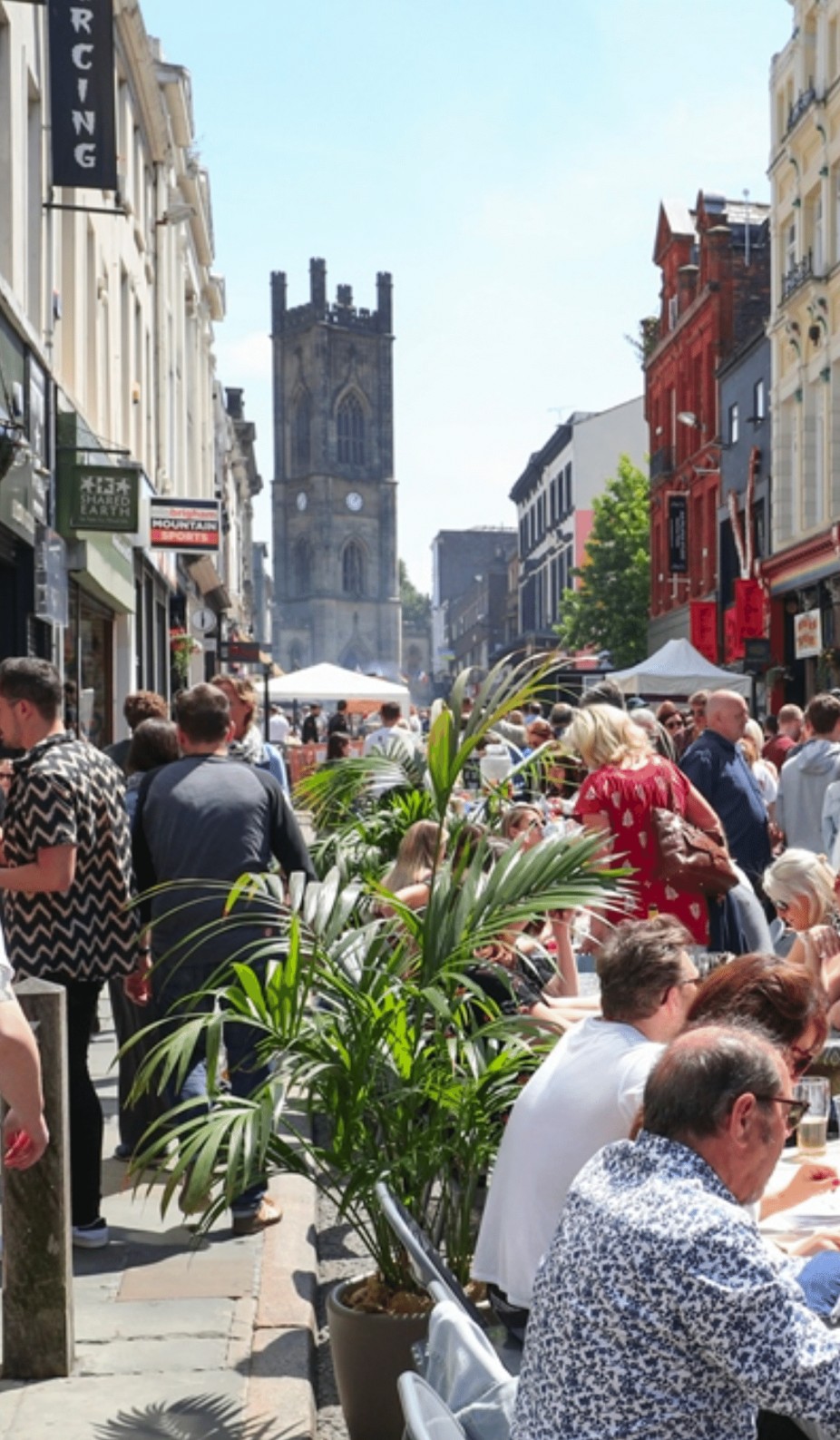 The Shoreditch of Liverpool, The Baltic Triangle is one of the trendiest places to visit.
Home to the famous 'Wings' artwork created by local artist Paul Curtis, The baltic triangle is Liverpool's central hub for creatives. Including sun-trap bars, gin gardens, indoor golf courses, independent food markets, coffee shops, breweries, incredible music venues, arcades, skateparks and the birthplace of Bongo's Bingo!
Located just a 15-minute walk South of the City Centre, The Baltic Triangle, or 'The Baltic', often referred to by the locals, is the perfect place for all occasions in Liverpool. It's one of the city's most exciting, creative and fast-growing areas with no signs of slowing down. What was once an unused area full of warehouses, and factories have now been repurposed into a thriving cultural hub.
The perfect spot for brunch, lunch and supper. It's for partying the night away and dancing on tables. It's for celebrating birthdays, graduations, weddings or just a Saturday night. It's for soaking up the sun with a Gin in a Tin on a Bank Holiday weekend. It's for late night raves with Jonny Bongo. It's for music festivals all summer long. It's for coffee to go, halloumi fries on tap, signature cocktails and locally brewed beer. It's where you hear music from every genre and laughter all day long, rain or shine. It's for selfies with Klopp, the Fab Four and Liverpool's Liver Birds. It's for friends, first dates, family days out and not forgetting, the pet pooches. It's the place you fall in love with Liverpool even more.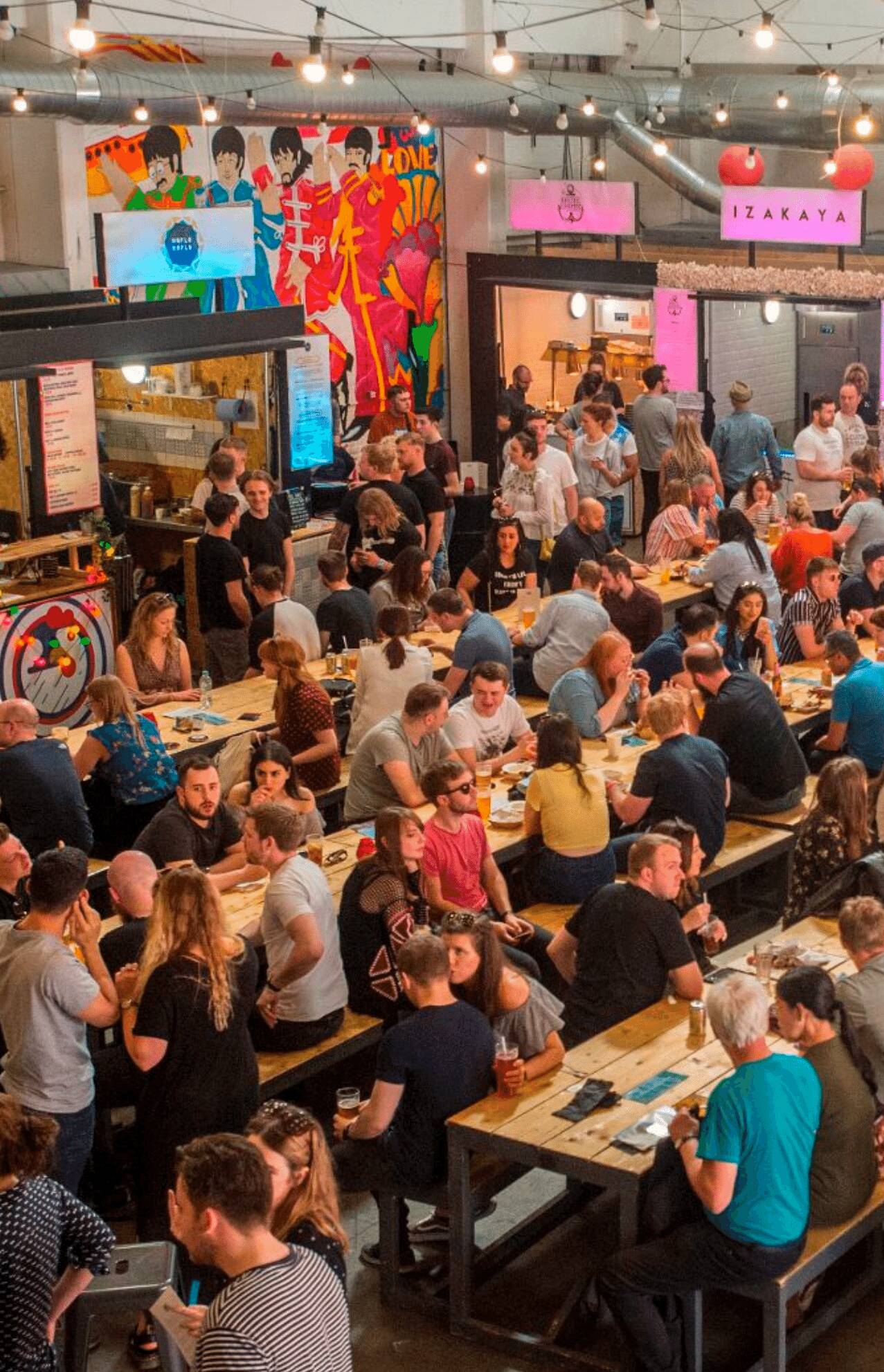 The cobbled streets, Georgian townhouses, traditional pubs, beautiful restaurants and cultural venues make this one of the most beautiful parts of the city and just a stones throw away from the local universities.
On one end of Hope Street and you'll be able to see the magnificent Liverpool Cathedral, stand at the other end and you'll see the modern Metropolitan Cathedral. Just some of Liverpool's architectural masterpieces.
Aside from the Cathedrals, Hope Street is home to some of the finest bars and restaurants in the city. Next time you're down there have a look at The Quarter, Papillon, Moose Coffee and the famous Philharmonic Pub. Opposite you will find the famous Liverpool Philharmonic Hall. The hall is home to the award-winning Royal Liverpool Philharmonic Orchestra who perform over 60 concerts a year amongst other huge touring artists, comedians and shows.
Close by you will also find the award-winning Everyman Theatre. Some of theatre's biggest names have graced the boards here for a whole host of touring and local productions from the world of theatre.
Speaking of Georgian ale houses there are loads of traditional pubs in the area to rest your legs after a day of exploring. Make sure you check out Ye Cracke, a favourite of John Lennon's, Peter Kavanagh's, The Caledonia, The Grapes and the Blackburne Arms - you'll be greeted with a friendly welcome in the Georgain Quarter!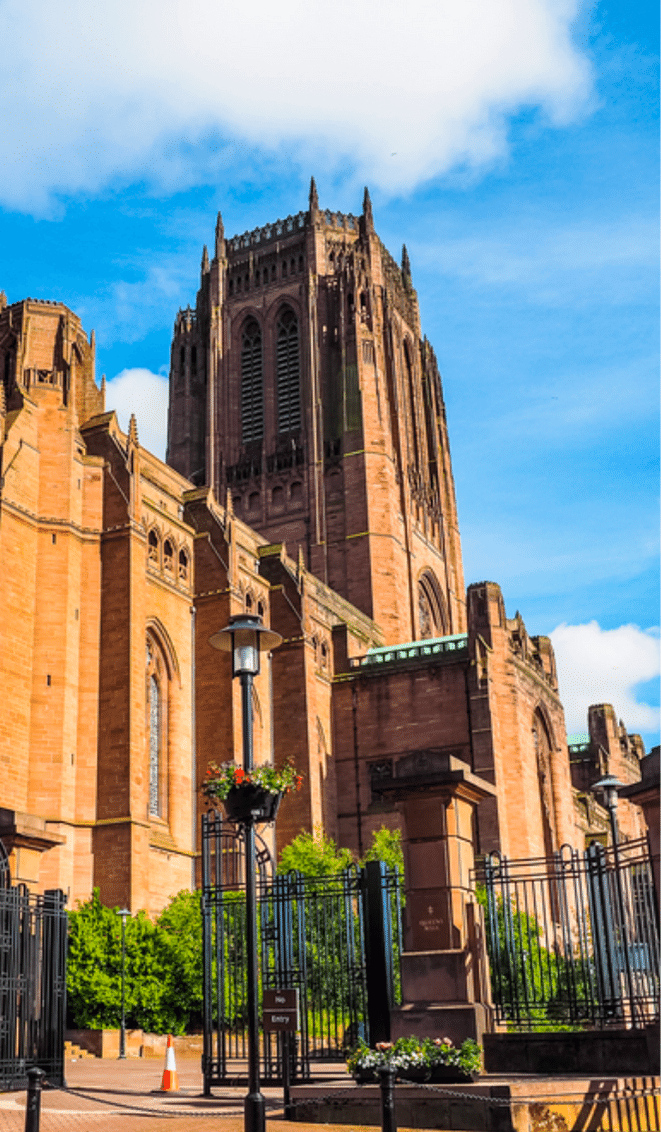 The Royal Albert Dock is arguably the prime location to visit during your time in Liverpool. Just a short walk from Liverpool One - the citys landmark shopping centre you'll stumble upon the cities finest independent shops, historic museums and attractions.
Discover the world of contemporary art at The Tate Liverpool, including famous exhubuts from the likes of Warhol LMW Turner. Uncover objects from the Titanic, find out about life at sea and learn about the port of Liverpool at The Maritime Museum or learn fo the untold stories of the enslaved at The International Slavery Museum.
At the award-winning The Beatles Story, the world's largest permanent exhibition purely devoted to the lives and times of The Beatles, visitors can find everything they need to know about four lads from Liverpool who shook the world.
Those looking for a bite to eat have a plethora of restaurants and cafes to choose from. From flavoursome brunches at Peaberry Coffee House & Kitchen and handmade pastries at family-run bakery, Rough Hand bakery, to Spanish small plates at Lunyalita and mouth-watering Thai cuisine at Rosa's Thai Cafe, there's something to suit all tastes.
For a weekend tipple, Revolucion de Cuba, Smuggler's Cove, and Revolution offer exciting menus of expertly crafted cocktails and delicious food options, ideal for some light refreshments or an evening meal.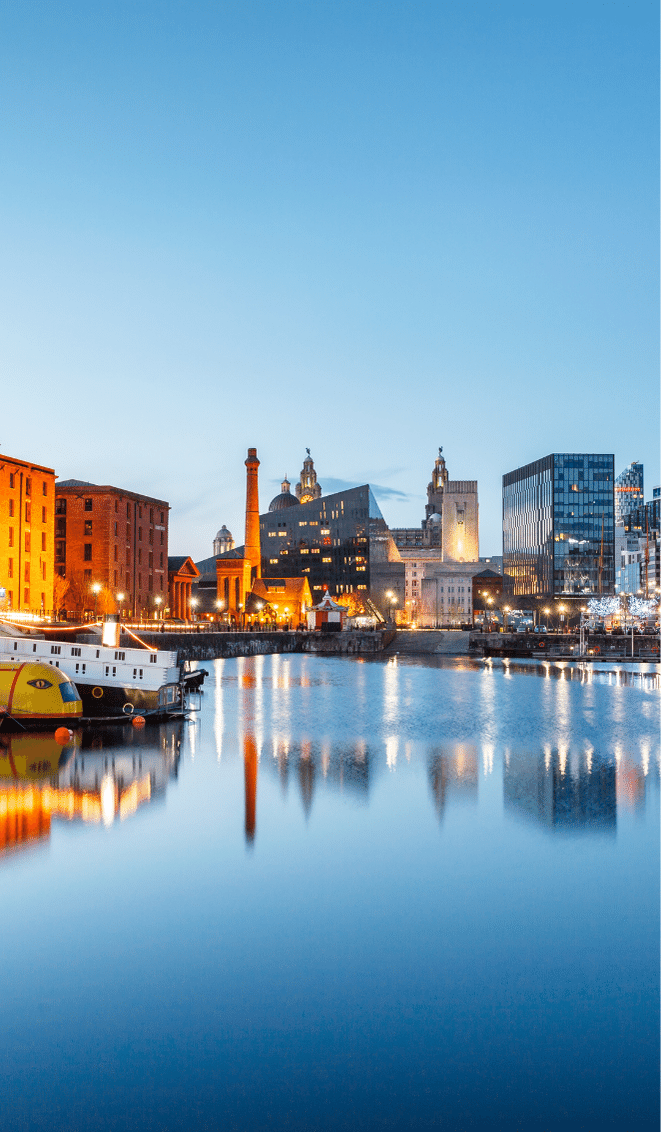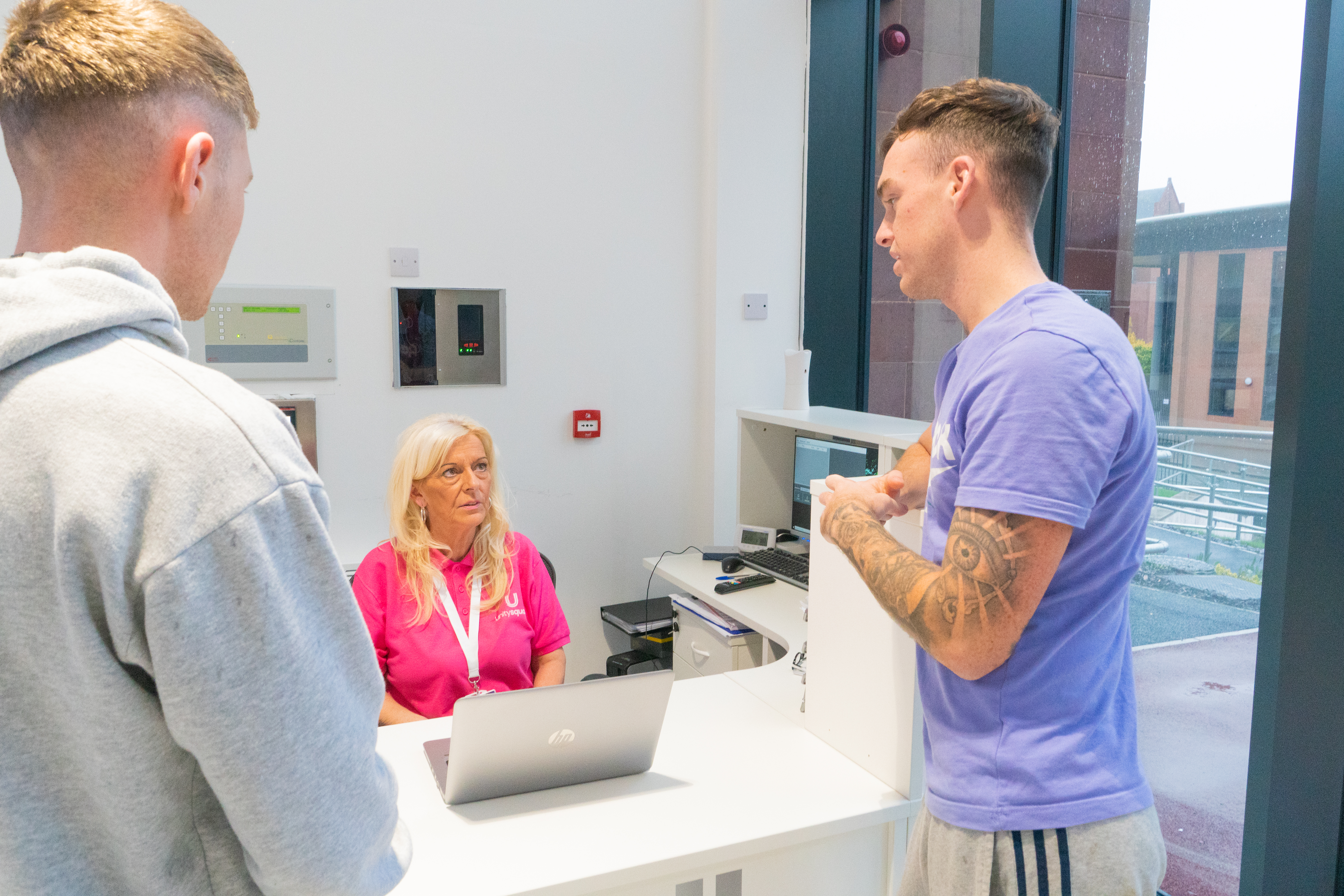 Get to know us better
Welcome to Unity Square Liverpool!
Our inclusive student accommodation is home to over 200 students all year round. Some students even choose to stay here for 2 or more years whilst they study in one of the UK's greatest cities.
Our friendly on site staff are available 24 hours a day. If you have any questions or would like to book a tour get in touch with the team via the details below.
Is there an application fee?
When will my move-in date be?
Do I need to bring furniture?
Our location
26 Shaw St,
Liverpool
L6 1AA
0151 319 5975
info@unitysquarestudents.com